SEM means "Search engine marketing". Not to confuse with SEO meaning Search engine optimization.
These are the ads that appear in Google or Bing search results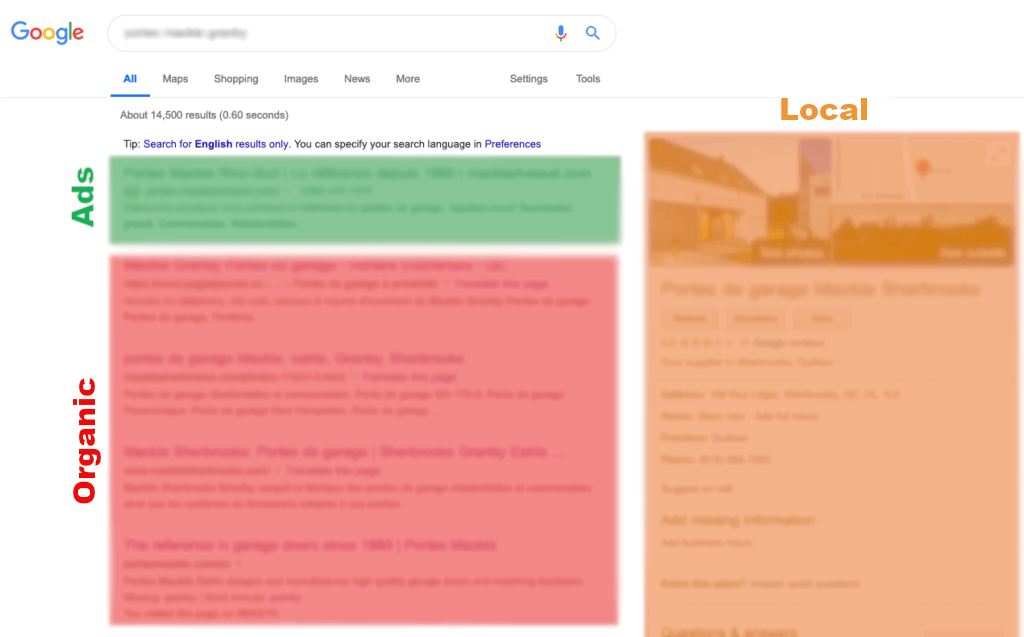 With SEM, you pay every time someone clicks on your ad, so it is important to have a good program and strategy in place so you don't throw your money out the window!
Why you should do SEM
When a user is searching for a service or product you offer, it is imperative that you be present. With SEM, you don't need to wait for optimization result to eventually be taken into effect to increase your position like SEO. With SEM, you appear instantly...as long as you pay Google!
Furthermore, ads allow you to control the message that you put out there. You have a new promotion that starts tomorrow morning? It's possible to create new ads to promote it.
Not only do you control the message, but you also control which searches you want to appear for. Since each click costs something, it is important to target the right keywords and have negative keywords to avoid paying for irrelevant search queries!
How does SEM work?
Wether you are using Google or Bing, SEM works through bidding auctions to determine what position you will appear in and what cost you will pay if the user decides to click on your ad.
You will have guessed, the relevance of your ad and the web page you redirect this ad to will have an impact on performance! It goes both ways. Google wants to make sure they are showing relevant content in their search results, and on our side, we want to make sure we appear for relevant searches, because why pay for a click if it doesn't bring any results!
Book a free initial consultation
Want to start SEM for your business?